Supporting emotional health and wellbeing at Belmont
As a Relational and Restorative School, our focus on emotional health and wellbeing at Belmont is embedded in everything we do. This has an enormous impact on students' learning, attendance and participation, building their self-esteem and confidence.
These are just some of the ways in which we ensure that everyone at Belmont achieves their best in a caring and safe environment:
As well as having a form tutor, students choose at least two Emotionally Available Adults in school that they feel they can relate to in times of need or crisis. Our EAA's are physically and emotionally present, attentive, attuned and responsive.
Circle time for for students, to encourage positive group interactions, support emotional intelligence, and help develop understanding of others.
Zones of Regulation (right) empower the students to think independently about their emotions, understand their feelings, and build strategies for support.
THRIVE is the whole-school intervention that focuses on students' mental well-being, aiming to ensure that every child feels valued, involved and appreciated.
Our Restorative Practice and Trauma Aware Approaches are at the heart of all we do – we believe the school can only be successful when it is a true community that provides rich relational interactions. This is achieved by building strong relationships, displaying good behaviour and respect for all, and accepting responsibility and an understanding of others when resolving conflict.
For further details, please see our Relationships and Behaviour Policy, and our page on Specialist Provision.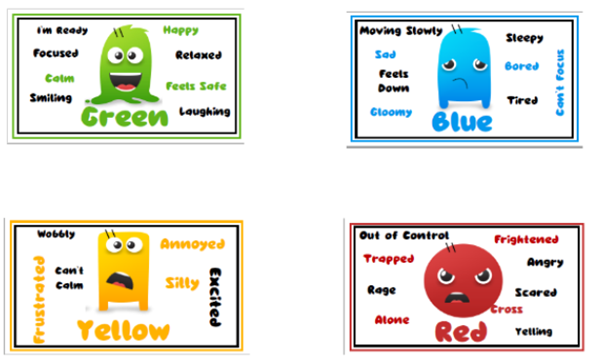 Yoga at Belmont
Yoga was introduced to Belmont in 2022 as part of our commitment to wellbeing, with a specially trained member of staff working with all secondary students on a regular basis.
Enjoyment and perseverance have resulted in the pupils being able to master the standard poses and stretches, and their ability to lie down and experience quiet space comfortably, is of huge benefit.
Our yoga lessons aim to cover the following:
(i) Three part breathing to help students feel relaxed and calm. This is great for our anxious pupils.
(ii) The sun salutation sequence works the whole body (this is the Active Skills part of yoga). It is energising, increases heart rate and circulation and also strengthens the body.
(iii) Restorative yoga is ideal for pupils who are feeling particularly tired, or have lower fitness levels. It gently strengthens the body whilst focusing their mind in the present moment, helping them feel connected and positive.
(iv) The guided relaxation at the end of each session is the most important yoga pose. It mindfully increases awareness of bodily sensations, emotions and feelings whilst teaching students how to relax. This is the area where staff seen the most progress in with our pupils so far.