Head's Welcome
A very warm welcome to Belmont! I hope you will enjoy exploring our website and finding out more about the teaching and learning at our happy school.
We are extremely proud of all our pupils and staff. Our vision and values are encapsulated in our determination to 'always be the best we can be', and our Belmont family aspires to reach its full potential in everything we do.
Our students join us with a wide range of learning needs and bring with them a wonderful mix of interests, personalities and talents. At Belmont, we offer a holistic approach to education, wrapping creative and specialist teaching around social and emotional wellbeing. While learning with us, the children are cared for, valued, challenged and supported to achieve the best possible outcomes during their time at Belmont and beyond.
At the heart of our practice is a focus on building the strongest possible relationships with our students and, crucially, with families, staff and everyone we work with. You will find more about our Relational School Practice as you journey through our website, and discover the thinking and principles behind our commitment to developing and maintaining relationships built on trust, respect and understanding.
Students, families, staff, and our partner agencies together are a mighty force at Belmont. It is here that we can help shape lives and prepare our children for a life in which they can be the very best they can be. Visit us to see the bigger picture. We look forward to meeting you.
Kevin Day – Headteacher
Right: Belmont took delivery of its new minibus on Friday 24th November! So many thanks to F@B, the Tee family and Pied Piper for funding this fabulous addition to Belmont's resources! Bring on the trips!!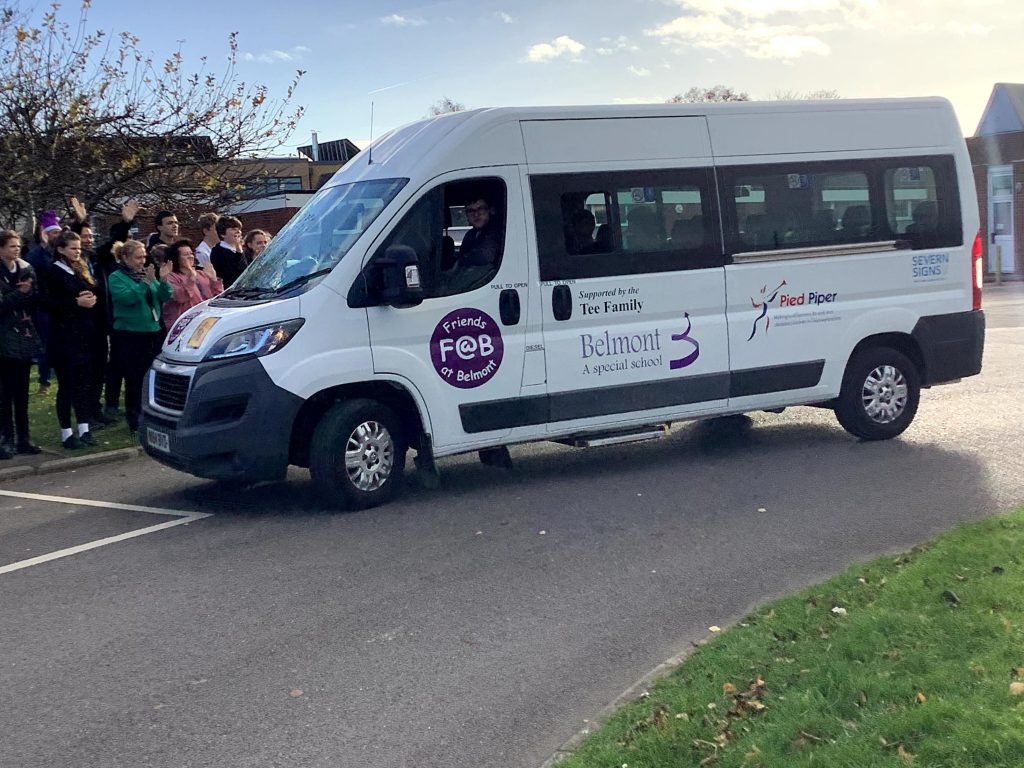 Latest News
Term 1 2023 Newsletter
November 9th 2023
NewsletterTerm 1 2023
Newsletter Term 6 2023
July 21st 2023
Belmont Newsletter – Summer 2023
Wheels for All
July 5th 2023
Accessible Yoga
July 5th 2023
County Summer Disability Football
July 5th 2023
Thank you ASDA!
May 9th 2023
Thank you to everyone who voted for Belmont School as part of ASDA's green token scheme! We were delighted to welcome to school ASDA's Community Champion, Dawn, who presented us with a cheque for an amazing £500! This will help provide extra resources and support in school to make make the students' learning experiences even more amazing! Thank you so much! Pictured with members of our school choir are (left to right), Neil (Co-chair of F@B), Mr Day (Headteacher), and Dawn (ASDA).