Fantastic fundraising and support
Friends @ Belmont, known in school as 'F@B', is a wonderful team of parents, carers and friends, working hard to raise funds to support pupils, families and staff at Belmont School – and having lots of fun at the same time!
We have a public Facebook page 'Friends at Belmont – Warden Hill', and also a private group for Belmont families called 'Friends at Belmont Families' – please do feel free to join, like and share online.
If anybody has any suggestions for fundraising, or family/carer get-togethers, or would like to join F@B please do get in touch either on Facebook or email us using the link below.
We are a lovely friendly group and any support anyone can provide – no matter how big or small – is always appreciated! All money raised goes back into our school which ultimately benefits our wonderful children.
These are just some of our most recent activities:
We went along to Gloucester Ski Slope to cheer on Belmont pupil Caleb – who represented Belmont in the South West ski championships. Incredibly he has only been skiing for a really short time and was fantastic! Well done Caleb – we are now exploring possibilities of a taster session for other Belmont children so watch this space…  If anybody else has any events Belmont children are taking part in, we love to come along and show our support, when able, so please get in touch.
F@B hosted a great family fun day, packed full of activities including soft play, bouncy castle, arts and crafts, police/fire engines and a Bennetts coach to explore! Sports activities included the chance to cycle with Cycle Stars or use adapted bikes from Goals Beyond Grass, and even play cricket with Gloucestershire Cricket Foundation.
We held a successful coffee morning where we enjoyed a natter and some delicious cake with some lovely families. We are hoping to hold more in the future – everyone is welcome.
Christmas at Belmont is amazing! We had a wonderful day helping the students to decorate the school. And of course, a Christmas Fayre is one of the highlights of the year, full of traditional games, Santa's Grotto, mulled wine and mince pies, and craft stalls full of beautiful gift ideas.  We are mindful of the needs of the children and arranged reduced sensory environment sessions for those who need them.
We are grateful for the continuing support of Morrisons' and Asda's community champions who do so much to help us make these events happen.
Do join us! We look forward to welcoming you!
Reg Charity 1172082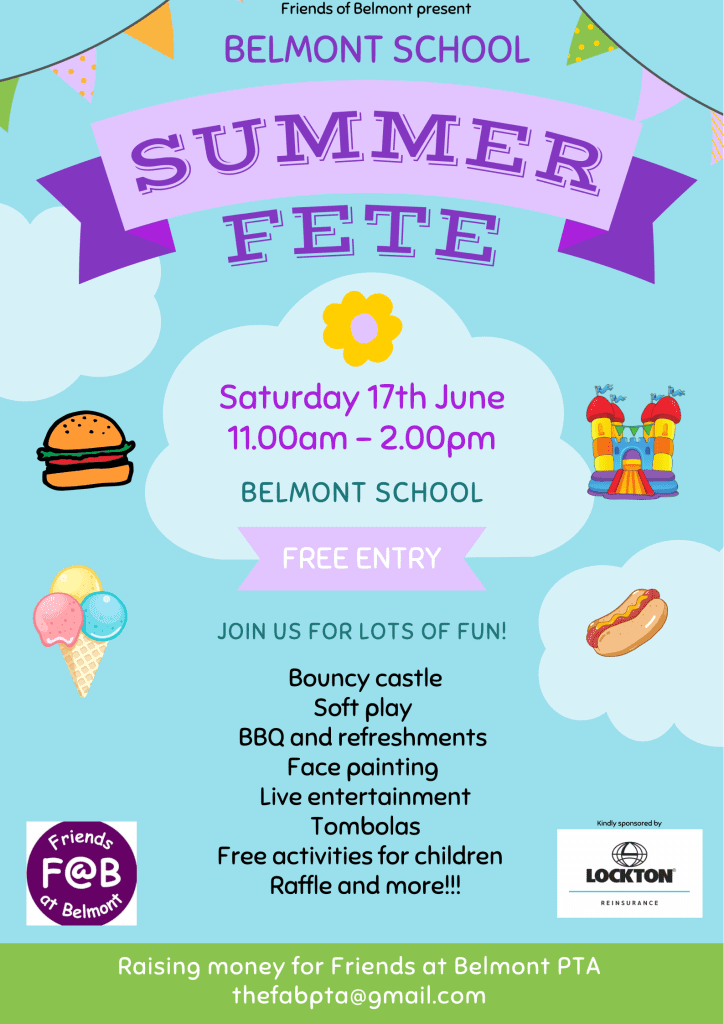 Walking with Pilgrims - 776km along the Camino de Santiago
Our F@B Co-Chair Neil Rushen is currently raising funds for Belmont by walking the 776km Santiago de Compostela pilgrimage over the Pyrenees and across the top of Spain.
The students are following Neil's progress on a map, and tuning into his daily video updates, which we are also posting here for you to access (some are in different formats depending on Neil's internet access).
If you would like to support Neil, his Just Giving page can be accessed here:
Neil Rushen is fundraising for Belmont Special School (justgiving.com)
Read on for Neil's story…
On May 3rd I'll be leaving St Jean and spending the next 28 days walking 776km's over the Pyrenees and across the top of Spain to Santiago de Compostela which I'm planning to reach on the May 31st.  The only things arranged are my flight out and back…everything else will be winged alongside the other pilgrims on "the Camino".
When Jacky started at Belmont Special School in September of 2021 he was largely non verbal and often didn't seem to understand what was going on in the world outside of the bubble he was lost in.  As his parents, thoughts of Jacky's future seemed quite bleak and we doubted he would ever be independent or lead a happy and fulfilled life.  But the changes we've seen over the last 18 months have been nothing short of miraculous.  With support from the school he now reads, has a bunch of great friends and always has a lot to say.  We were so grateful for the changes we saw that we wanted to give something back to the school.  
Initially I joined the Friends at Belmont PTA where I'm now co-Chair and alongside a great bunch of parents and carers we've been raising funds to help the school but I wanted to do something a little more personal… and that's where I came up with the idea  of walking along The Way of St James, a journey taken by pilgrims since 950AD and maybe just saying "thank you" along the way.  Buen Camino!!
F@B at Drop-In Saturdays!
Keep an eye open for F@B at our monthly family drop-in sessions. They aim to be at most of our Saturday activity days, providing refreshments and cakes, and happy to chat about all things Belmont (and even how you can lend a hand with some fundraising!).